Darts, Billiards and… Andy Capp
When we speak of the Greats of the Darts and Billiards worlds, we must admit that the greatest of them all was: Andy Capp! Presented here (for educational purposes) is a small history of this great comic character who celebrated the joys of darts, billiards and beer!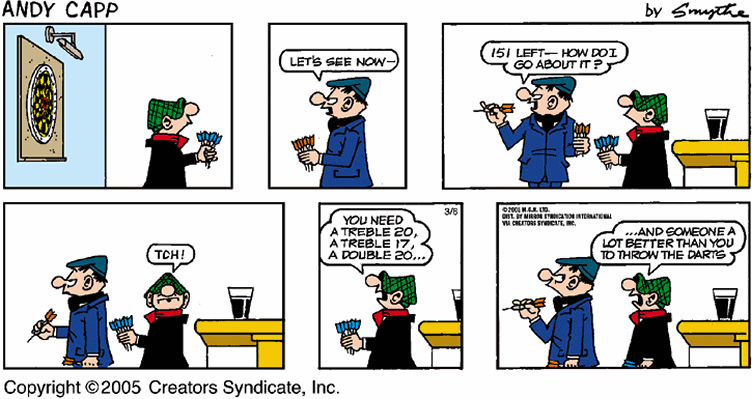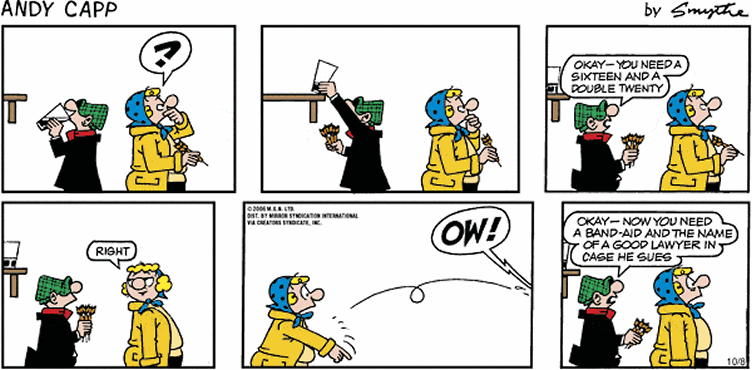 Andy Capp is a British comic strip created by cartoonist Reg Smythe (1917–1998), seen in The Daily Mirror and The Sunday Mirror newspapers since 5 August 1957, and is still syndicated internationally by Creators Syndicate.
Andy is a working-class figure who never actually works, living in Hartlepool, a harbour town in northeast England. The title of the strip is a pun on the local pronunciation of "handicap"; and the surname "Capp" signifies how Andy's cap always covered his eyes along with, metaphorically, his vision in life.
Andy's hobbies include pigeon racing, darts, snooker, football, occasional cricket and rugby, betting on horses, getting drunk in the local pub, loafing on the sofa, and fighting with his long-suffering wife, Florrie. — from Wikipedia
Andy Capp is an icon of the comics, and not just in Britain. He even has his own Facebook page!
… and even a statue! Sculpted by artist Jane Robbins, the piece was erected in Hartlepool on June 28, 2007 (photo by Chris Newman.)

Smythe received the National Cartoonists Society's Humor Comic Strip Award for the strip in 1974.
Andy's creator, Reg Smythe, died on 13 June 1998 but the original strip has continued with Roger Mahoney as artist and Roger Kettle (writer). Currently, the credited creators are a trio named Mahoney, Goldsmith, and Garnett.
In May 2012, Andy Capp (as well as Flo, Chalkie White, the Vicar and Jackie the Barman) appeared as an animated series for the first time in promotional material for The Trinity Mirror-owned MirrorBingo.com website. Andy Capp had previously appeared in animated form in television adverts for the Post Office (1986) and Kit Kat (1991).
Our caps are off to you, Reg and Andy!!
Thanks to Wikipedia for the information on Capp and Reg Smythe.
Thanks to dartsthailand.com for the comics!
Like Darts??? Read a bit about the History of Darts!
---
Jester's Billiards, the BEST sports bar for billiards, darts and craft beers in Gilbert, Mesa, Tempe, Chandler, Scottsdale and Phoenix! Look for us at the intersection of the main streets of Gilbert and Baseline Roads, in the Encore Plaza in Gilbert, Arizona.
Open 7 days a week, from NOON to 2 AM!
Happy Hour: Monday – Friday 4:00 PM to 7 PM
After 7pm: 21 and up ONLY
Before 7pm, anyone 18 and under MUST be accompanied by a parent or legal guardian
1515 N Gilbert RD, Gilbert. AZ. 85234 –
on the SE corner of Gilbert Rd and Baseline Rd in the Encore Plaza